Family Adopts Pit Bull But She
Won't Leave Without Tiny Best Friend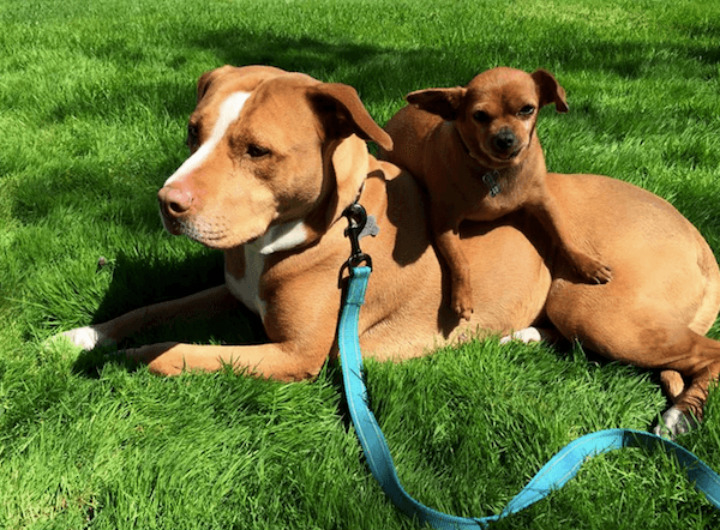 1. An Unexpected Pair
It's no secret that dogs are man's best friend. Their unconditional loyalty and genuine love render them the best companions out there. However, our canine friends can also form unbreakable bonds with one another. This heartwarming animal rescue story of a pit bull and Chihuahua proves just how strong that bond can grow; a bond not even humans can understand. When an animal shelter tried to find a forever home for a young pit bull, she did something that blew all the volunteers away. Read here to find out what happened when the rescuers tried to separate her from her tiny best friend.
In October 2014, a female pit bull terrier called Merrill and a male Chihuahua named Taco were handed over by their owner to Rocket Dog Rescue, an animal shelter in San Francisco, California. Not much was known about why they were there, but the staff quickly noticed something special.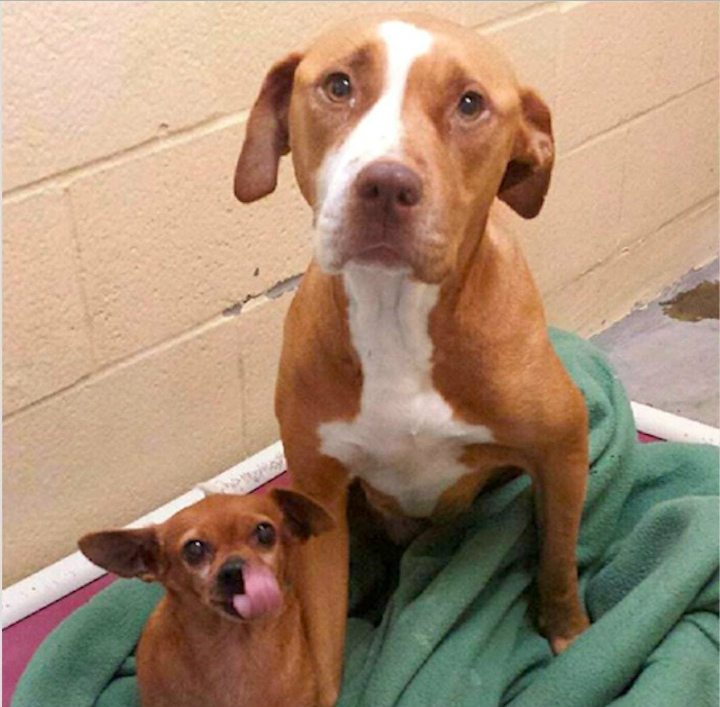 The two dogs wouldn't leave each other's side, so the volunteers at the animal rescue organization hoped to find someone to rescue the pooches together. Sadly, this proved to be more difficult than expected. After spending their lives together, it seemed that Merrill and Taco might have to be separated.
2. Two Peas in a Pod
When Rocket Dog Rescue received Merrill the pit bull and Taco the Chihuahua, the volunteers didn't know much about their owner. The only thing they were sure about was how inseparable Merrill and her tiny best friend were and how they cried if they were separated even for just a moment.
The animal rescue organization posted the sweetest picture of them on Facebook which portrayed just how unique the dogs' bond really was. "We just could not stand the thought of them being separated or waiting at the shelter for months to find a home TOGETHER so they are coming to Rocket Dog Rescue!!!" the caption read.
3. Assessing the Situation
The veterinarians at Rocket Dog Rescue assessed Merrill's condition because she was in bad shape. They determined that she was three years old and must have been used for breeding at least once before. She also had a really bad urinary tract infection that needed immediate attention.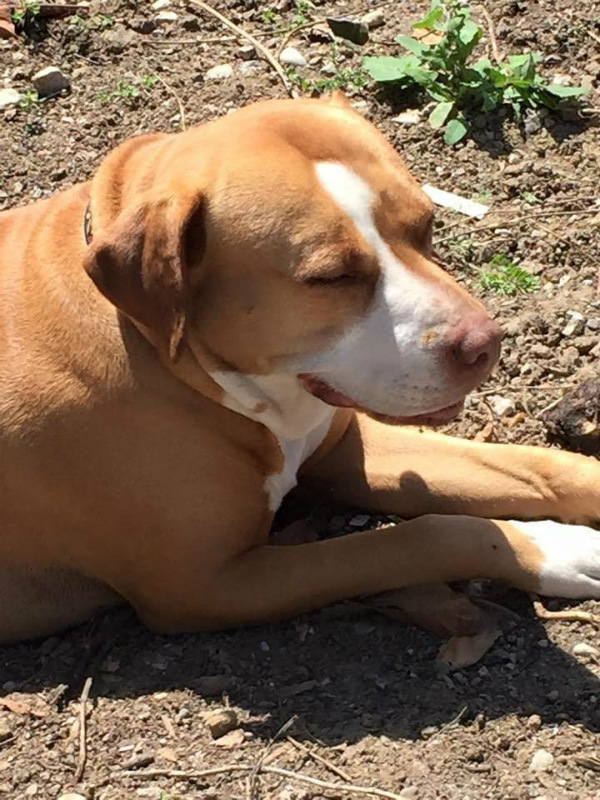 They assumed the pit bull's owner gave her up because of the infection, which was life-threatening and required Merrill to undergo costly surgery to save her life. It also meant she couldn't breed anymore; all the more reason for her owner to give her up. What happened next left the volunteers totally gobsmacked.


4. Merrill the Pit Bull's Surgery


When the vets took the pit bull in for surgery, her tiny best friend Taco, who was eight years old, was extremely anxious. For the entire time Merrill was away from him, the Chihuahua was restless and very upset. It's as if he knew exactly what was going on and just wanted to be by Merrill's side.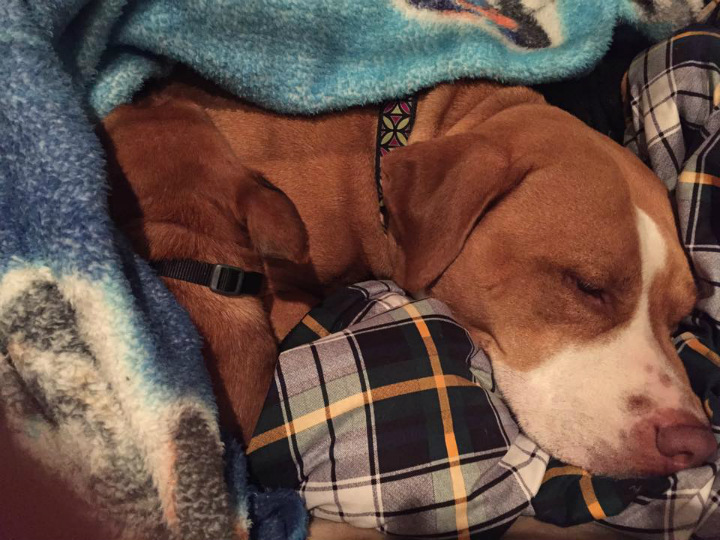 As soon as Merrill was released from the operating room, the pit bull and Chihuahua started wailing for one another. The doctors wanted her to be alone so she could heal faster, but the both of the dogs just wouldn't let up. The volunteers couldn't believe how much they loved each other, so they knew they had to do something to calm them down.
5. A Surprise Visitor
When the pit bull and Chihuahua wouldn't stop crying for one another, the rescuers decided to let Taco into the recovery room so he could be with Merrill. His loyalty and unbelievable care for Merrill blew everyone away.
Taco stayed by Merrill's side from the moment he entered the room, and as a result the volunteers started to grow concerned about just how committed this pit bull and Chihuahua were to each other. They even worried that this unbreakable bond could actually harm them in the long run.
6. A Legitimate Concern
Rocket Dog Rescue has a lot of experience with animal rescue and adoption processes, so the organization grew concerned about Merrill's and Taco's intense bond for a very specific reason. They knew from experience that people don't usually adopt two dogs at once.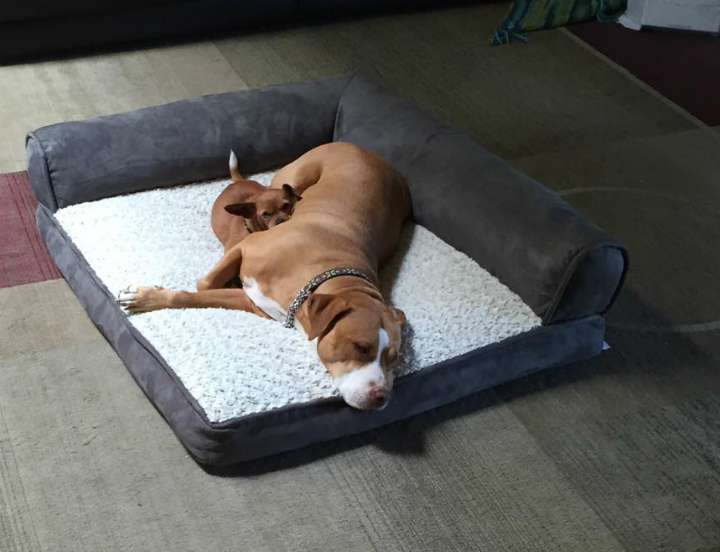 The volunteers knew that it was harder to adopt dogs who grew a strong bond, especially an older dog like Taco. They had already posted individual pictures of the dogs on their website, but no one showed much interest in adopting Taco. Then one day something happened that completely changed everyone's perspective on the matter.
7. A Potential Adopter
Merrill was an easier dog to adopt than Taco. She was a beautiful pit bull mix and still young, so many people showed interest in her after Rocket Dog Rescue placed her picture on their website.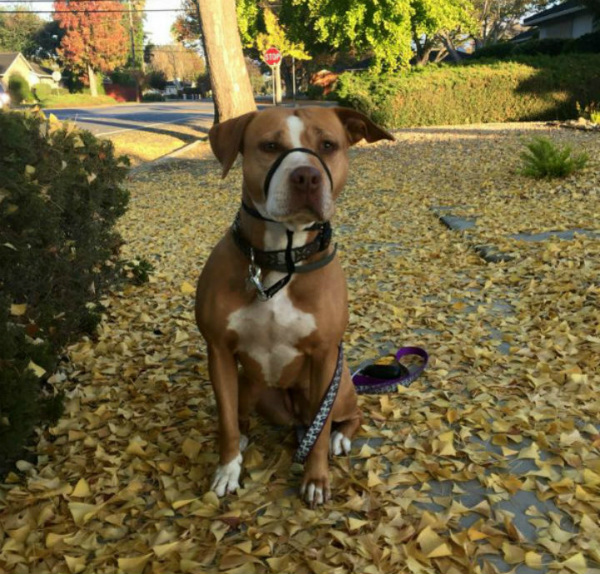 Eventually, someone came to the animal shelter hoping to adopt a dog and provide that animal with a permanent and loving home. It was like love at first sight when he laid his eyes on Merrill, but little did he know that this pit bull had a tiny friend practically attached to her at the hip.
8. What Now?
The man had his heart set on Merrill the pit bull and Rocket Dog Rescue was more than thrilled to see her find a happy home. He wanted to adopt her immediately, so he signed the paperwork and approached her cage to take her home.
He opened the cage where both Merrill and Taco were lying together to let her out, but as soon as he took her out, they both started crying uncontrollably. The man was obviously very confused, and just looked at the volunteers completely dumbfounded by the situation.
9. A Good Heart
It was time for Merrill the tough pit bull to show her unwavering loyalty to her tiny best friend Taco the Chihuahua. It was clear that she didn't want to leave without Taco, and the animal rescue staff had to explain that to the man.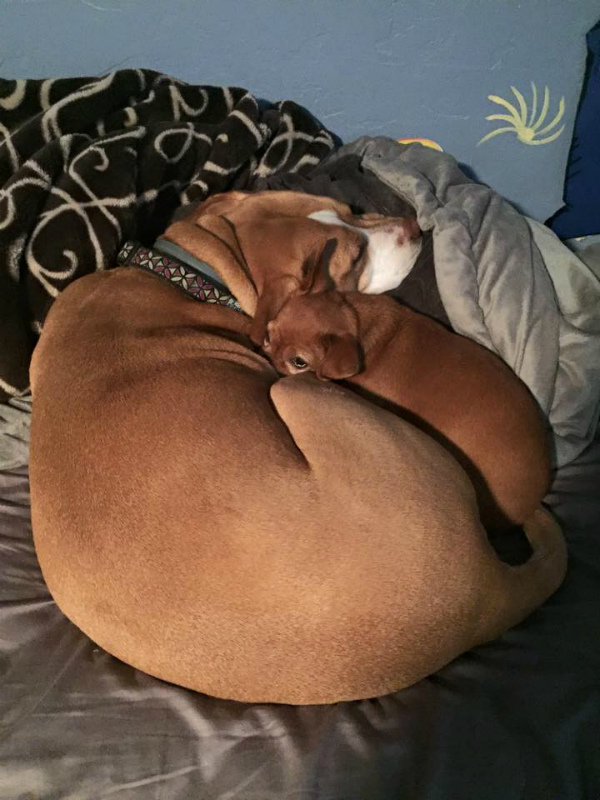 The man had a big heart and didn't want to be the cause of their separation. He just knew they had to be adopted together to avoid any broken hearts, but would he be able to finally give both the dogs a loving home again?
10. A No-Go
Unfortunately for Merrill and Taco, the man wasn't in the position to take in two dogs, so he chose another dog in desperate need of a home. On the one hand, the staff at Rocket Dog Rescue were happy at least one dog found a home, but on the other hand, they still didn't know what to do about the pit bull and Chihuahua duo.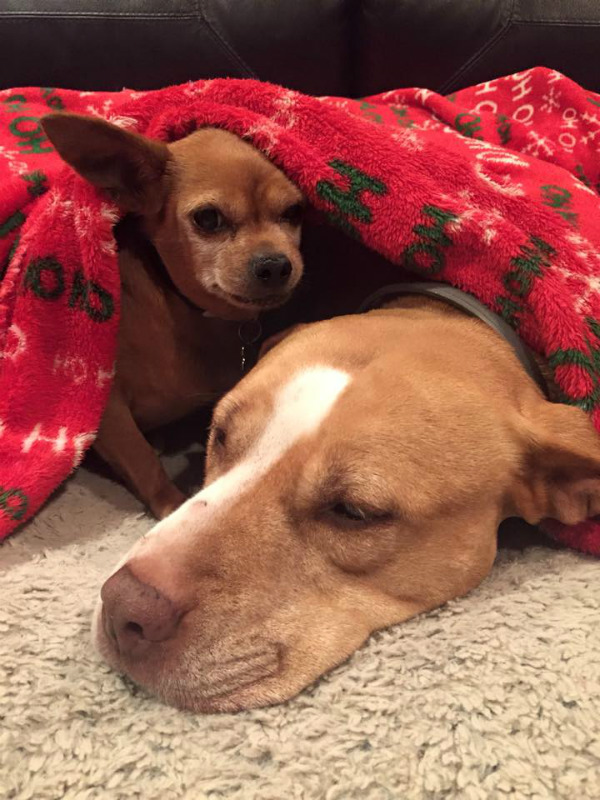 The rescue staff understood they needed to change their strategy when it came to Merrill and Taco, but it clearly wasn't so easy. They came to the conclusion that the dogs needed to be kept together, so they devised the best plan on how to adopt them as a pair.
11. The Big Change
Rocket Dog Rescue had a great idea and instead of listing the special pit bull and Chihuahua separately, created a joint post of Merrill and Taco together, explaining that they needed to be adopted as a pair by whoever would take them in.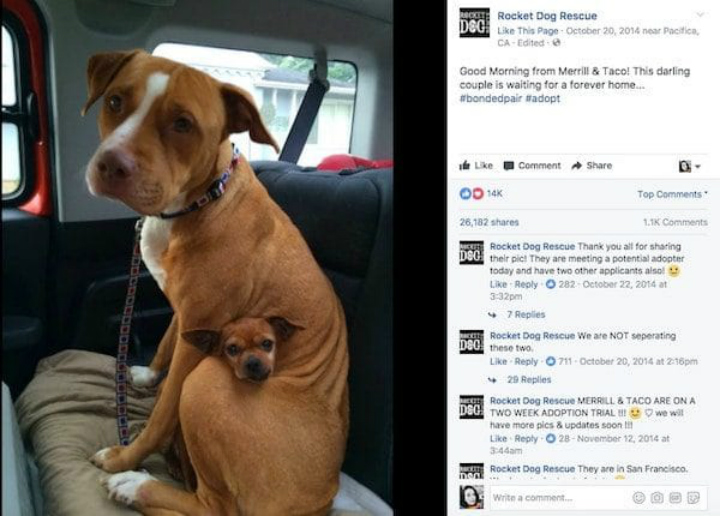 The caption of the listing read: "These two love each other more than any bonded pair the shelter has ever seen. They cry when they leave each other's side. This dynamic duo has lost their family, their home, and now we can't let them lose each other!" So, would these words touch the heart of at least one person out there?
12. Attached At the Hip
The image of Merrill the pit bull and Taco the Chihuahua spread like wild fire across the Internet. What made the picture so adorable was how Taco wedged himself between Merrill's legs with his tiny head poking out.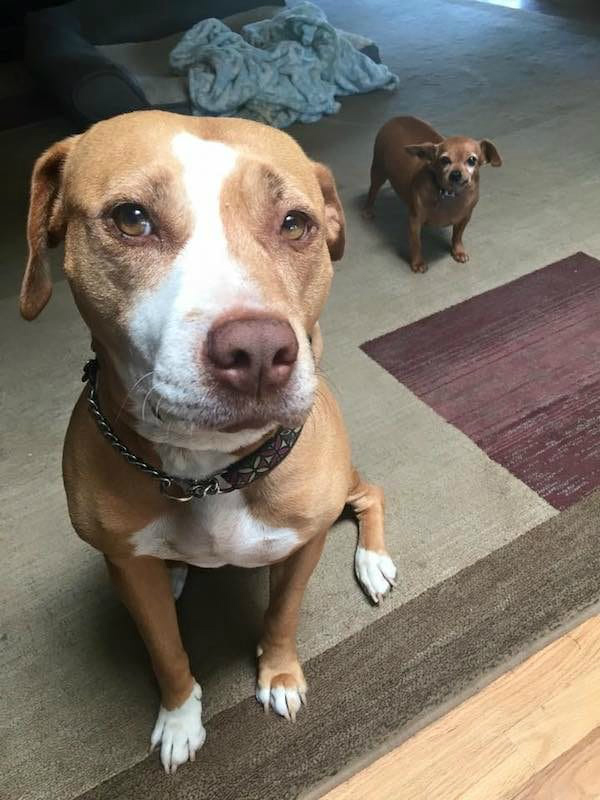 The picture portrayed the beautiful bond between these two furry best friends. It showed just how close they were to one another; almost like Taco was a body appendage permanently attached to Merrill. It was this image that made the duo famous.
13. Social Media Fame
The rescue center made a brilliant move by posting this picture. It received 14,000 likes, 1,000 comments, and 26,182 shares within a few days of sharing it on social media. All the feedback proved that Rocket Dog Rescue did the right thing by keeping them together.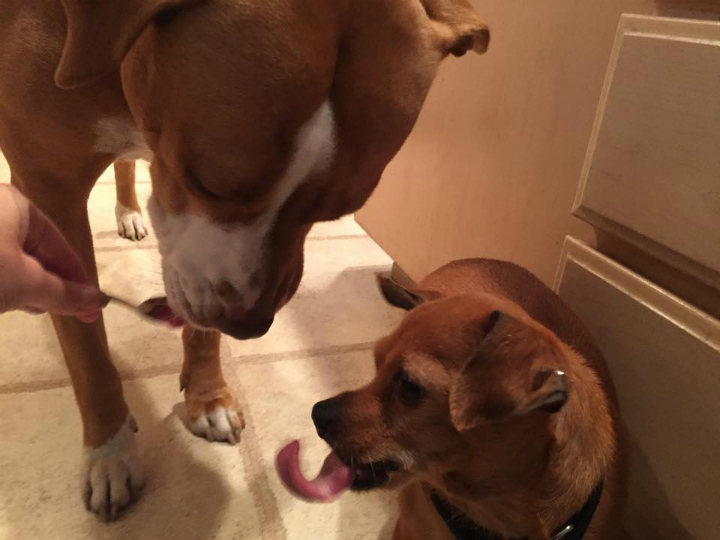 The animal rescue shelter was now optimistic that Merrill and Taco might find a forever home. Dozens of families commented that they wanted to take the two home. But would these comments materialize, or was it just a case of overenthusiastic people giving false hope?
14. One Step Closer
Rocket Dog Rescue made sure to constantly update their posts stating that the internet-famous pit bull and Chihuahua duo were still available for adoption. They just knew that someone would come around to save these special dogs.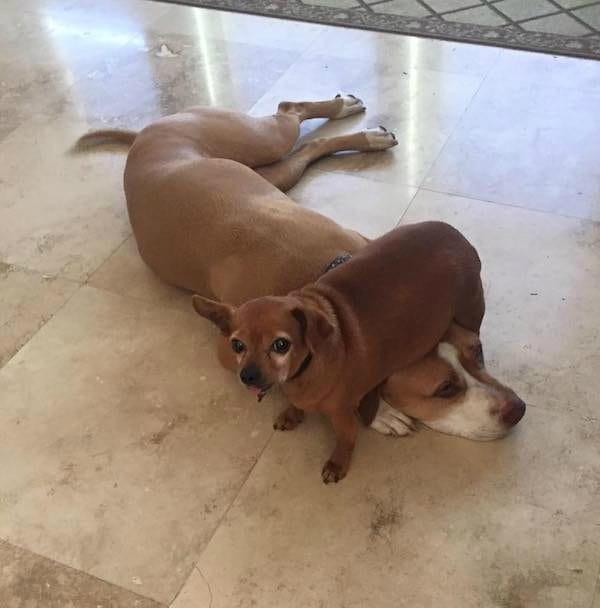 Despite their obvious size difference and Taco's senior age compared to young Merrill, everyone admired their incredible bond. A volunteer named Jodi agreed to foster the dogs until they found a home, but then the animal rescue center's prayers were finally answered.
15. Prayers Answered
Once the Facebook post circulated for some time, Rocket Dog Rescue found the perfect match for Merrill and Taco. A family from San Jose found the website by accident and instantly fell in love with the unique pit bull and Chihuahua pair.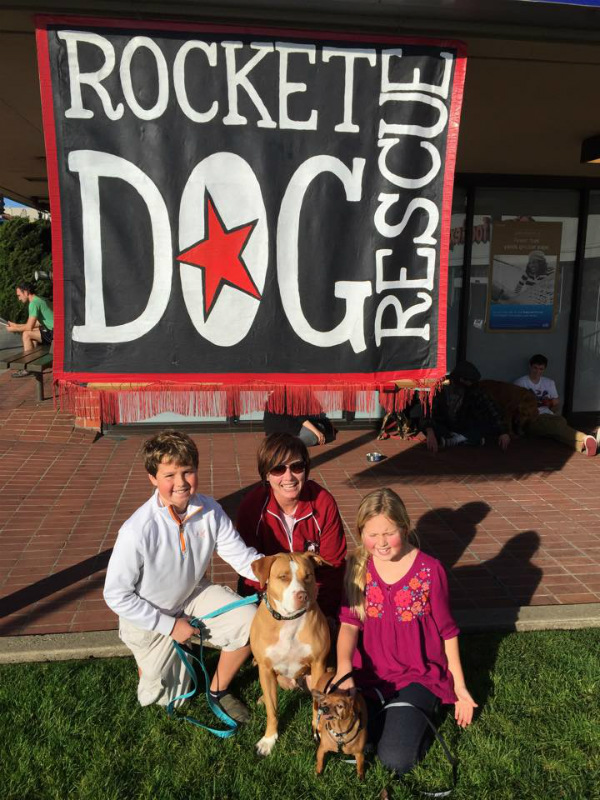 The family went to Jodi's place to meet the dogs and ended up falling even more in love with them in person. Merrill and Taco had finally found a family and home to call their own, but their journey wasn't over just yet.
16. Not Out Of the Woods Yet
Taco was quite an old Chihuahua already, so he had quite a few health problems. Over the years, the poor dog had developed asthma and a dental disease, leaving him with only four little teeth and a floppy tongue. His previous owner must have neglected the issue over time, so all of Taco's teeth fell out.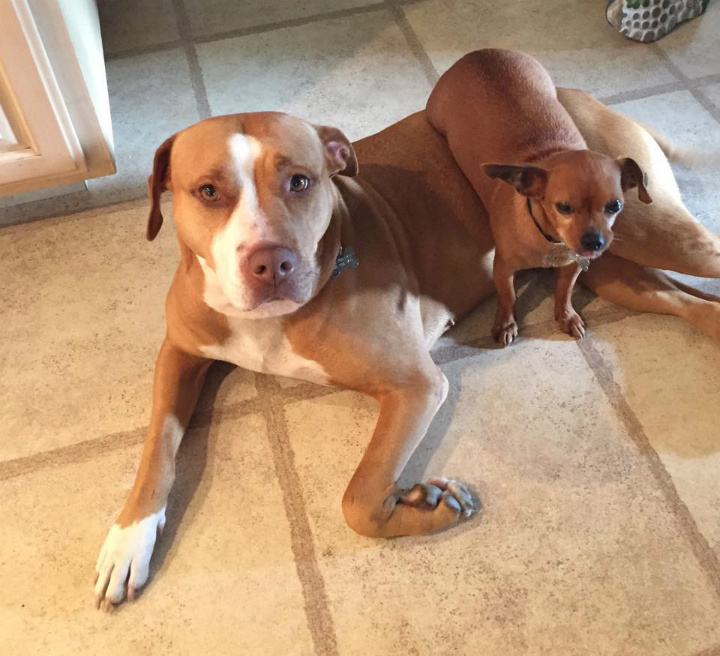 His new family from San Jose was aware of those health issues, and still wanted to adopt Taco nonetheless. They felt those were just minor imperfections in an otherwise perfect little Chihuahua. It was only a month after they took him home when they realized things weren't looking so good for Taco.
17. A Trip to the Vet
After a month with his new family, they decided they needed to take Taco for an evaluation at the veterinarian. They didn't want to take a risk with such a delicate, old Chihuahua, and to their dismay, the news wasn't good.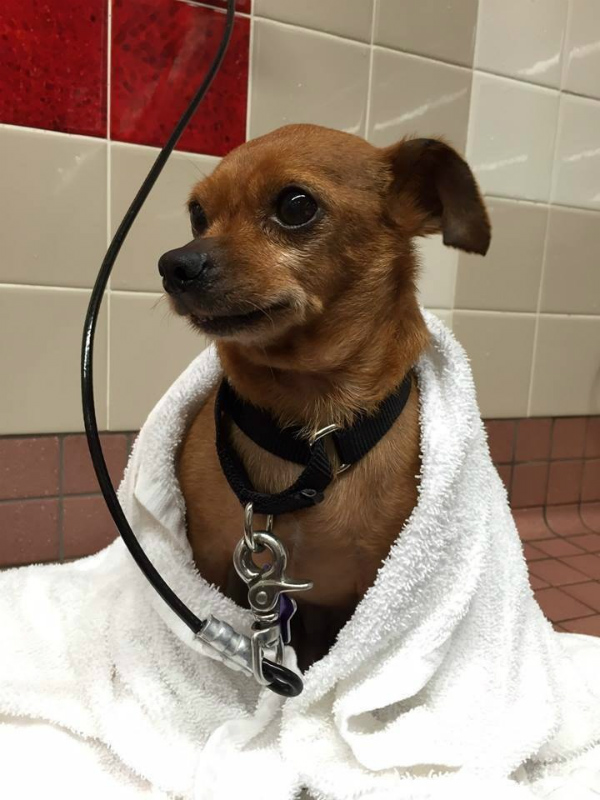 The vet was extremely concerned that Taco was suffering from heart failure. After he ran some tests on the frail-looking Chihuahua, he discovered that Taco's heart was enlarged and that there was fluid surrounding his lungs.
18. The Vet's Verdict
The family couldn't do anything but fear the worst! The vet explained that something needed to be done before Taco's heart failed him. They agreed to put him on medication and booked an appointment with a specialist.
Taco was put on medication while the family waited impatiently for the scheduled visit to the specialist. They wanted to remain positive, especially for Merrill, but they understood that they needed to prepare for the worst scenario too.
19. A Fighting Chance
The family understood that Taco's chances of recovery were quite low because of his age, but they never gave up on hope and showered him with plenty of attention, love, and care. They knew all this love would give him a fighting chance.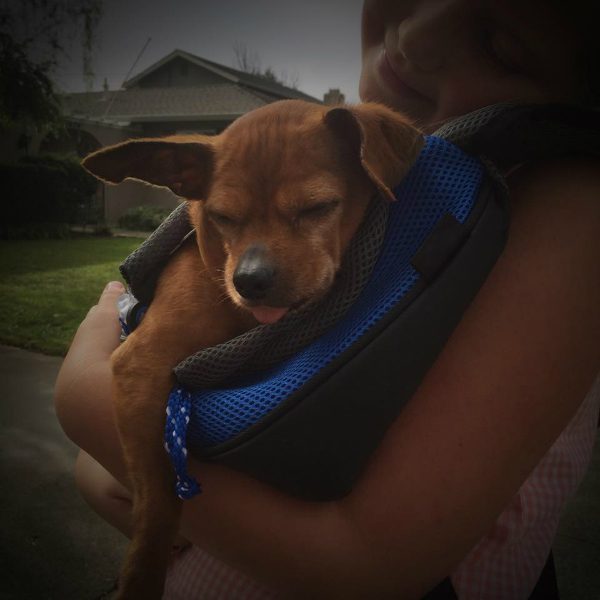 This is when Merrill came to the rescue. It was no secret that the furry pair needed each other more than anything else, and Merrill wanted to care for Taco just like he cared for her after her surgery.
20. The Brave Chihuahua
By some miracle, or probably because of his bond with Merrill and all the love he received from his family, Taco started feeling a whole lot better. His heart condition began to stabilize with the treatment.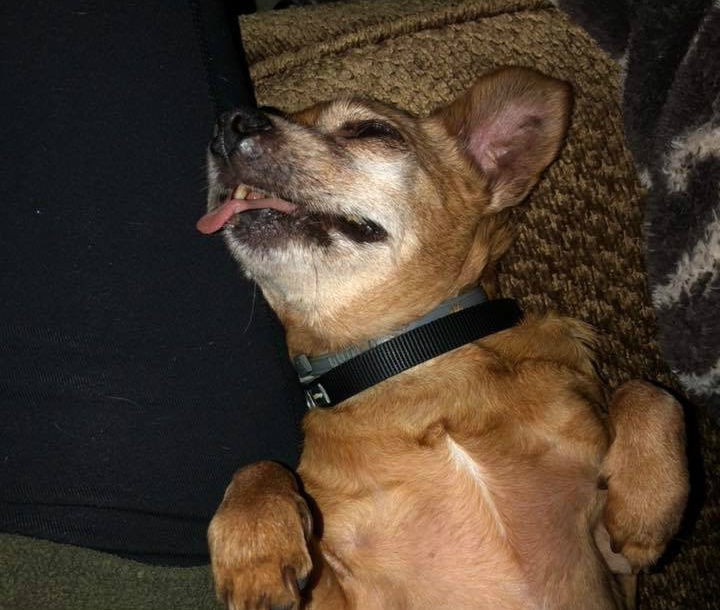 The specialist prescribed him anti-seizure medication and steroids to treat the fluid around his lungs. His heart condition completely healed, but Taco will need to take medication for the rest of his life because of his respiratory issues.
21. A Lively Little Thing
Taco didn't let his health issues stop him from living his best life. The tiny Chihuahua might only be a fourth of the size of his best friend Merrill the pit bull, but he manages to keep up with her young spirited antics.
He plays with his best friend and loves to get carried around by his human family all the time. The special pair immediately adapted to their new home since their adoption in November 2014, so the family decided to share it with the world by creating the pair a page on Facebook.
22. The Pit Bull and Chihuahua's Facebook Page
The family chose to remain anonymous, but they created a
Facebook page called Merrill and Taco
so they world can still enjoy the dogs' beautiful and unique bond, especially since so many people were invested in their happiness from the get-go.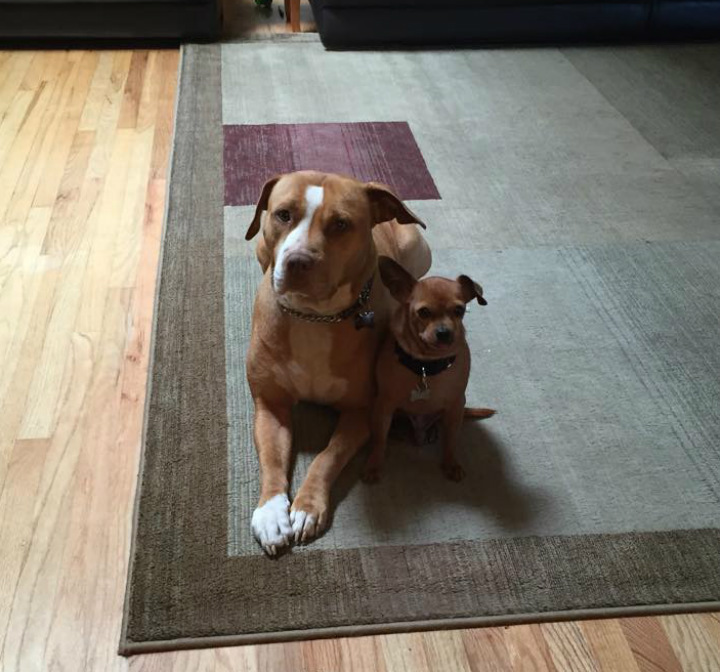 The following pictures prove just how special Merrill and Taco are, and how well they are doing with their new family. However, they still cry for each other if they get separated for even a few moments.
23. Crazy Antics
Seeing that Merrill is a young and energetic pit bull, she loves to roll around in the grass and run around with her family in the garden. Merrill has never been happier in her life. Who could blame her, with a loving family and best friend by her side?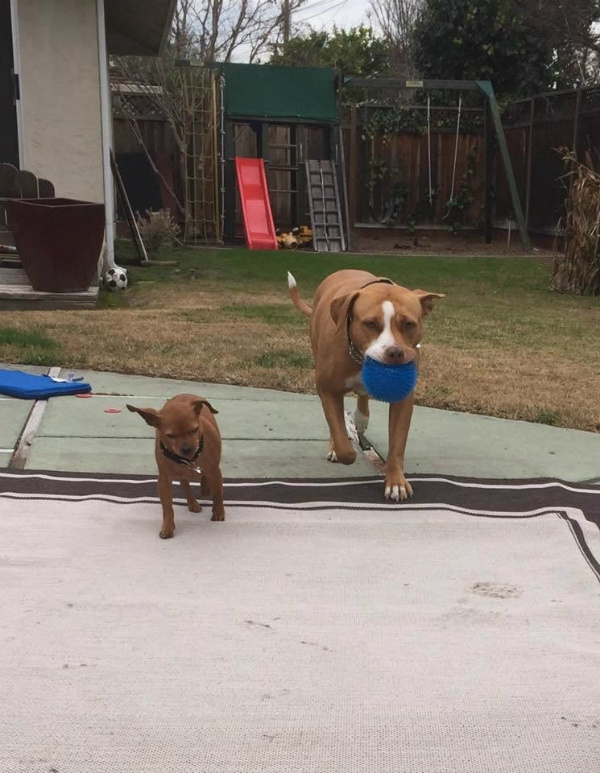 Taco might not be able to run as fast as Merrill, but he still loves joining in on all the fun by hitching a ride on his sibling humans while Merrill frolics around in the grass. As long as the two are together, they are in their element.
24. Carried Around Like a Baby
One of Taco's favorite pastimes is to be carried around like a baby. He buries himself under his owners' T-shirts and hangs out, practically swaddled like a little baby, whenever he doesn't feel like running around in the garden with Merrill.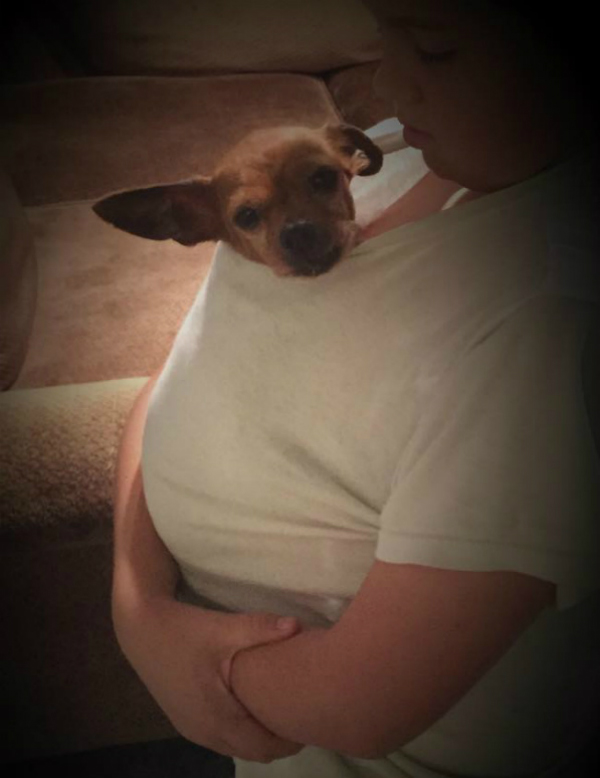 When they do play together, Merrill never displays any kind of dominance as a stronger
dog breed
. She lets Taco jump, sleep, and cuddle on top of her whenever he wants to. They truly are the most inseparable pair around, despite their stark differences.
25. Cuddle Time
When Merrill and Taco aren't cuddling together, which is most of the time, they love to sleep next to their humans, wherever that may be. Whether it's on the couch in the TV room or tucked in bed, these dogs are showered with love and attention throughout the day.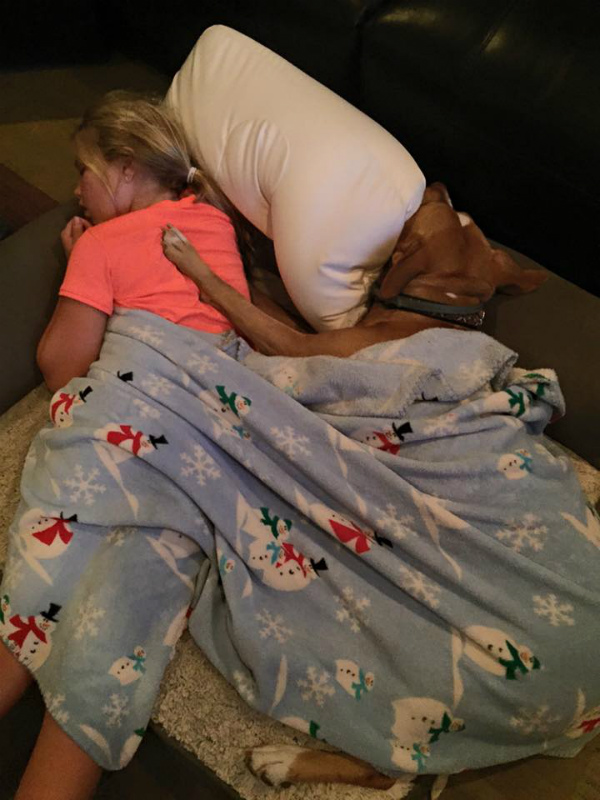 Most of the time, the pair can be found sleeping in funny positions side by side in their baskets and beds. The family posts countless pictures of the sweet pair relaxing next to each other after using up all their energy playing outside.
26. Christmas Time
After Merrill and Taco were
rescued
from the shelter, they never again had to feel what it's like to be abandoned animals. In fact, their lives completely changed beyond imagination with every special moment being documented by their family, including their first Christmas at their new home.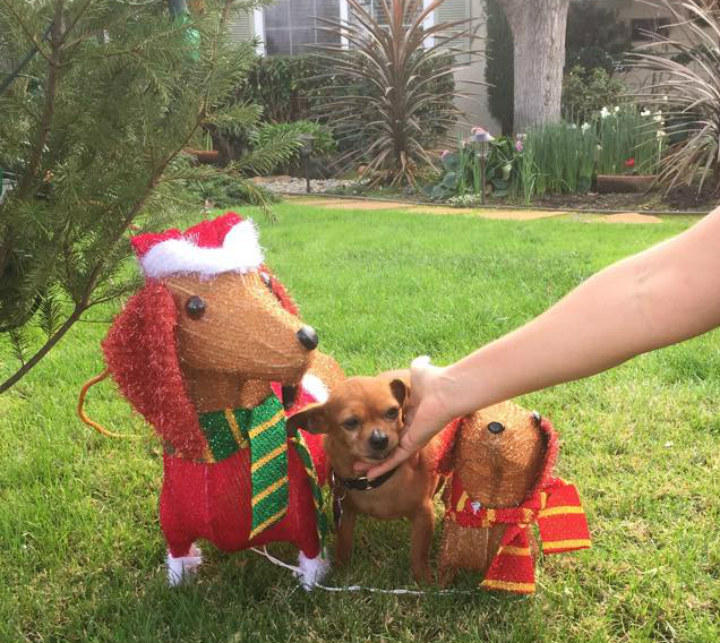 The family played dress up with Merrill and Taco and dedicated a special post on Facebook, thanking both Rocket Dog Rescue and their foster Jodi for all the wonderful work they did for their precious fur babies.
27. One Year Anniversary
Another event worth documenting — besides for the hundreds of pictures of them playing and relaxing at home — was their one year anniversary with the family. They took Merrill and Taco out with their friends for a walk.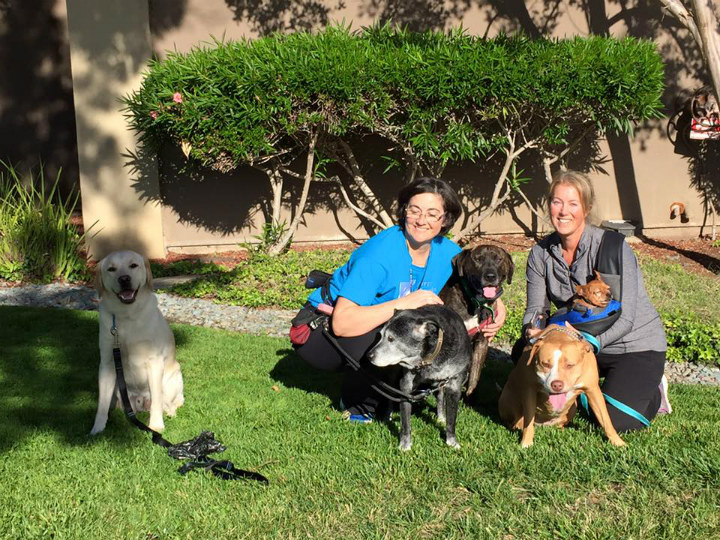 The Facebook caption stated: "It's our 1 year anniversary!!!! We celebrated Merrill and Taco's big day with a walk with friends. From left to right … Jack, Boo, Kim, Tigger, Merrill, Me and Taco. Kim is the one who posted the pic from Rocket Dog that got this whole ball rolling. Thanks Kim! It's been a great year. We love them!!!"
28. True Love Story
It seems that what makes this pit bull and Chihuahua duo so popular is the unusual bond they share given how different their breeds are. Merrill never gets rough with Taco, and the huge size difference doesn't seem to bother either of them.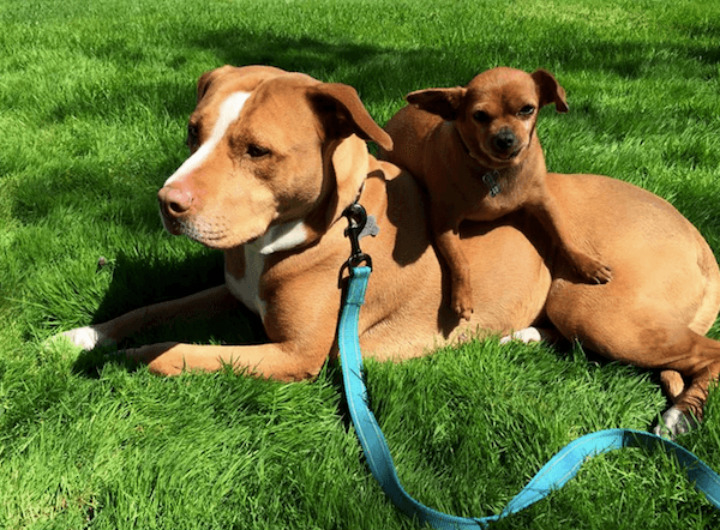 It's like this male and female pair have a beautiful love story going on, but their bond goes way beyond that. They must have gone through a lot together before Rocket Dog Rescue took them in, but their bond only gets stronger with every obstacle they have to face. The volunteers at the rescue center were so moved that they had to share more pictures of Merrill and Taco even when they found a home.
29. Mission Accomplished
The
Rocket Dog Rescue
also wanted to celebrate Merrill and Taco's happy ending, so they shared a picture of the sweet pair lying next to a fireplace to express how happy the rescue volunteers felt.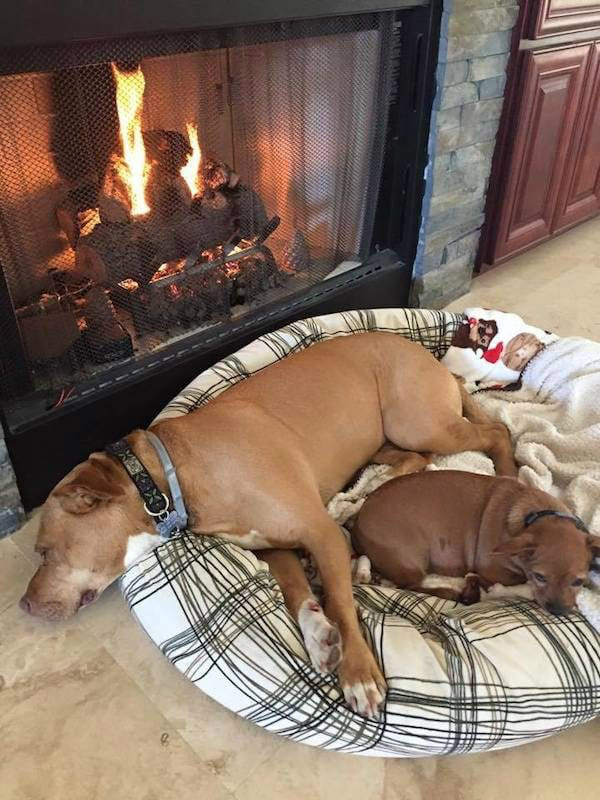 The caption read: "Merrill and Taco are doing wonderful in their forever home. They are enjoying hanging out by the fire snuggling up after a long, fun filled day." One thing for sure is that no matter what Merrill and Taco may be up to, they are definitely doing it together.
30. A Growing Group
It turns out that Merrill has learned to broaden her horizons in terms of friendship and now has even made new friends. One such new furry friend is this pooch pictured below named PJ, shown during their first play date.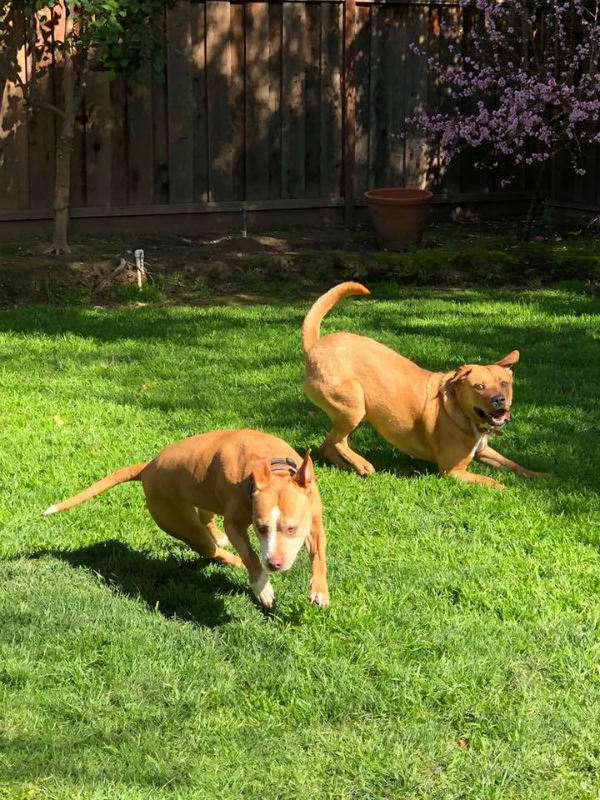 In a Facebook post from March 12, 2018, it was written that Merrill was "having a play date at [PJ's] house. Getting in some turning and burning before the rain comes." In addition to the many likes and comments, some were left wondering why Taco wasn't out playing too. It turns out he has different ideas of fun.
31. Taco the Chiller
Taco and Merrill both seem to have grown in their sense of trust and are even able to be apart every once in a while. Taco does not join Merrill for "play dates" with other dogs in the area and instead prefers to relax at home.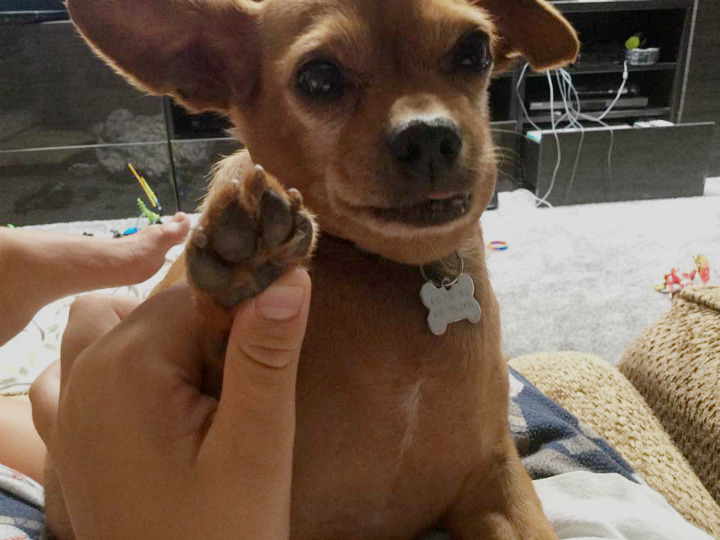 When one Facebook commenter asked where Taco was during a play date, the owner responded that "this is no place for him. He'd get creamed … This is like Clash of the Titans stuff. Only for the fast, strong, and really hard headed."
32. Scrub A Dub
Merrill and Taco fortunately are still enjoying life with their loving family and their owners sure know how to treat them! Here, Merrill and Taco are shown getting a bit of a doggy spa day by going to the groomers for a bath.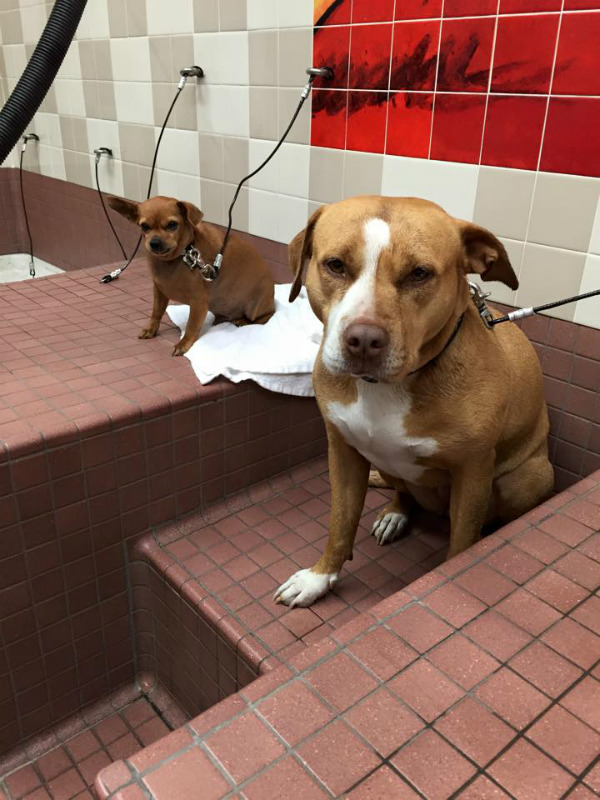 Although a bath might be relaxing for us humans, the pair's owner admitted that they aren't the biggest fans of bath time. "Can't say they love bath time but they enjoyed the walk there and back," the photo's caption read. "And the cookie they got afterwards."
33. Mani Pedi Day
Every pampered pooch knows that getting a manicure and pedicure is part of the deal and Merrill must be accustomed to this beauty ritual. Her owner even bought her pink OPI-brand nail polish made especially for pets, called Pawlish.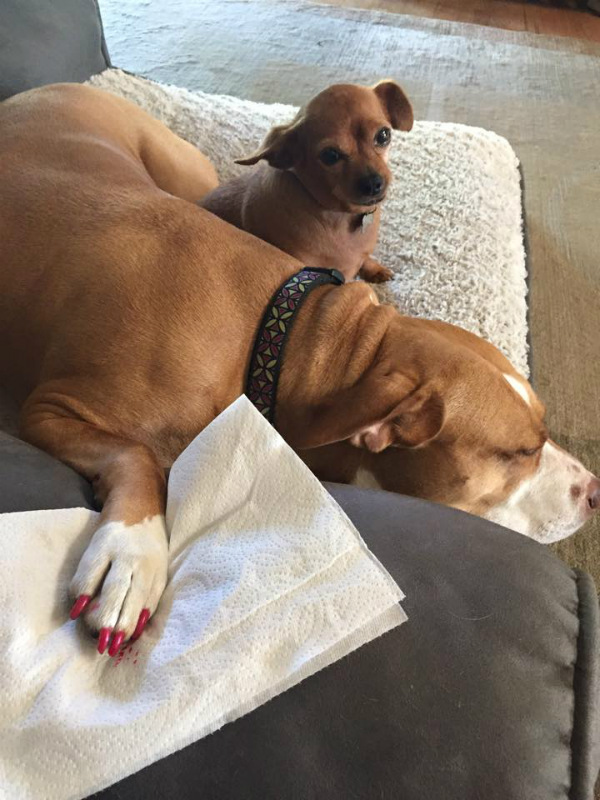 After the beauty ritual was done, Merrill settled right in for a snooze and waited for the polish to dry. She seems to be a pro by now at living the good life. The only question remains is: what color did Taco get?
34. A Bone Fit For A King
Taco may be small but he is mighty. In this photo posted on March 1, 2015, Taco is shown chowing down on a brand-new bone almost as big as him, completely in a state of doggy bliss. The story behind how he acquired it is hilarious!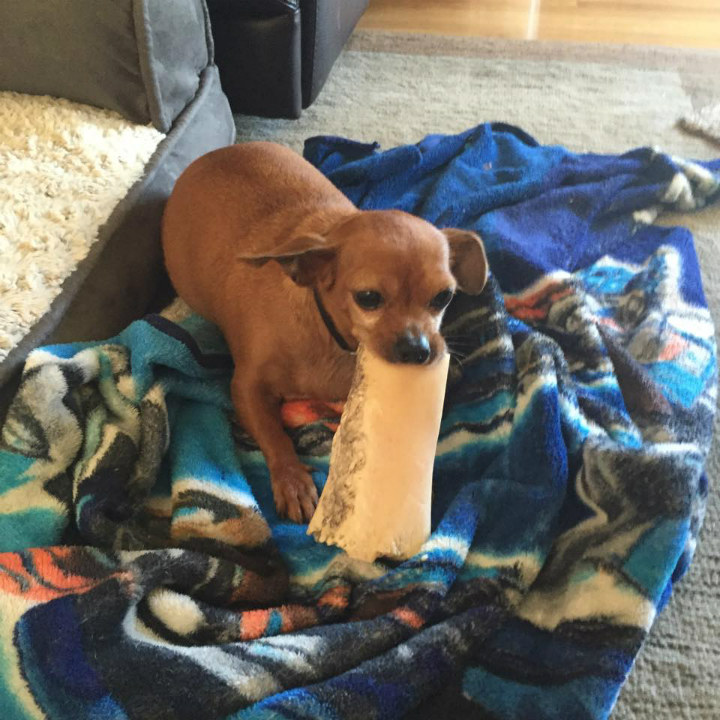 As the post read on Facebook, "Merrill got a nice big yummy bone…We heard Taco barking from the other room and went to investigate. He was barking at Merrill telling her to back off from his bone. He's not going to let a severe deficit of teeth slow him down."
35. 'Tis The Season
Even pets get into the Christmas spirit and this adorable duo are no different. Pictured here in an adorable set of photos from December 2015, Taco and Merrill's owners decided to dress them up with a festive set of antlers attached to a headband.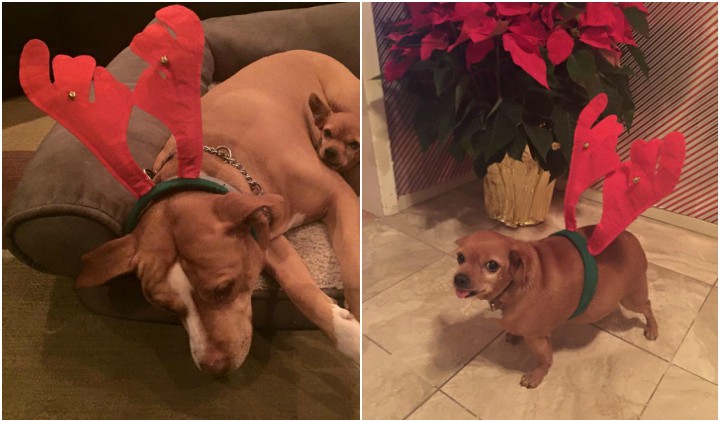 The fresh pair of antlers seemed to fit Merrill well, though the owner wrote that "This is how to get her to stay completely still. She can't move with antlers on." Next, Taco tried them on and he is so tiny that it only fit around his adorable little waist.
36. The Cone Of Shame
It was January 2, 2017 when Merrill and Taco's owners decided that the pair would ring in the new year by taking a trip to the vet and coming home with new accessories. Each pooch came home sporting the infamous "cone of shame".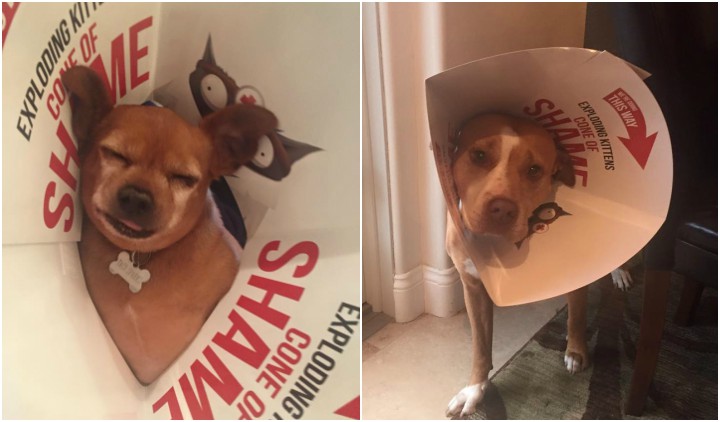 It wasn't stated exactly what procedure the dynamic furry duo underwent, but what is known for sure is that it was done for their health. As evidenced by Merrill and Taco's owners' track record, they take the wellbeing of both dogs seriously and will do anything to keep them happy and healthy.
37. Down On The Farm
Merrill and Taco don't just live a cozy life in the comfort of their home, but apparently, they also get to roam in nature now and then. Isn't that every doggy's dream? Merrill had the cutest reaction to visiting a donkey and horse for the first time.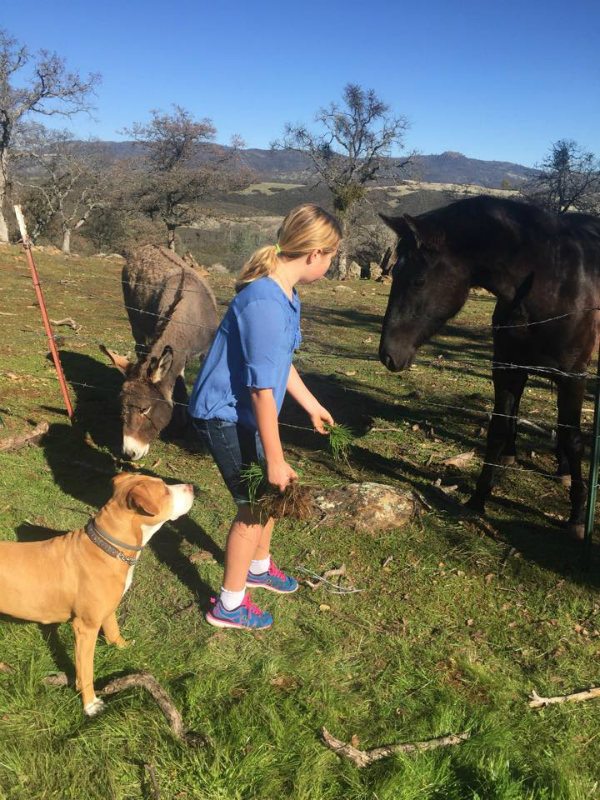 In this photo from December 26, 2016, Merrill is shown with one of her human siblings, greeting the farm animals. The caption says that "Merrill is very interested in this big creature" while Taco was apparently hanging out "inside, warm and safe."
38. Doggy Alarm Clock
Who needs an alarm clock when you have an inseparable doggy duo to yank you out of bed? When their human brother needed to wake up early, Merrill and Taco gladly rose to the occasion and helped.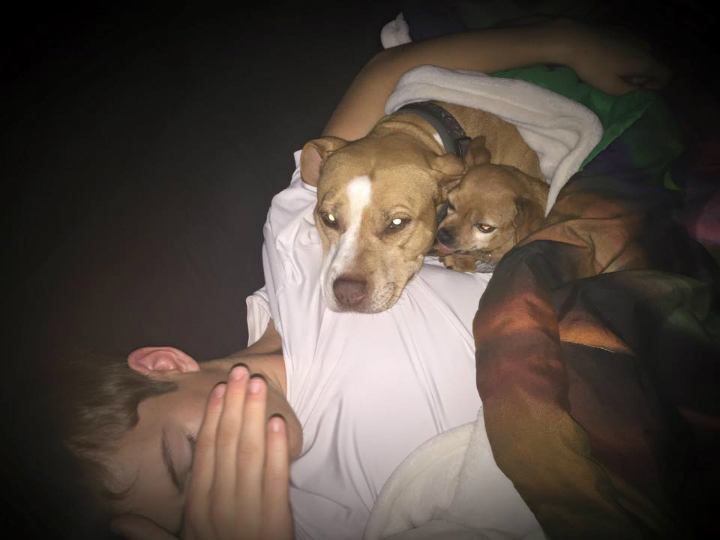 Their method was to first snuggle under the covers, then wriggle themselves right underneath their brother's arm. Next, one of the parents used a flash while documenting the adorable wake up ritual. Mission accomplished!
39. Home Sweet Home
It's not always easy being a dog. They can't roam freely wherever they want and they can't eat the tasty-looking food that the humans get to eat. However, they do get the comfiest places to snuggle: nuzzled together on a cozy bed.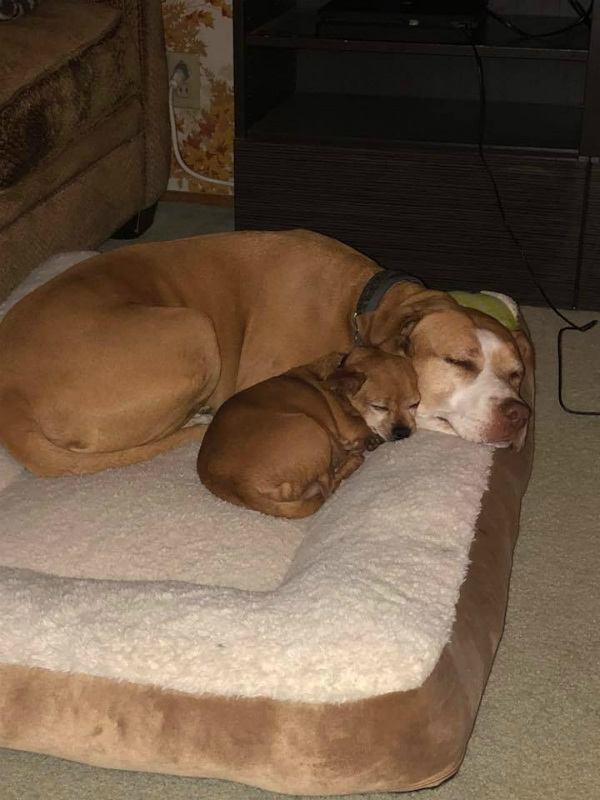 In this ridiculously-cute photo from January 3, 2018, the dynamic doggy duo, Merrill and Taco, were shown taking a well-deserved snooze together. The caption simply says "Home sweet home" and it really does speak for itself!
40. Rocket Dog Rescue
Rocket Dog Rescue prides itself as a volunteer based organization that rescues abandoned and sick pets and saves animals who would have otherwise been euthanized in overcrowded animal shelters. The organization also offers the companion animals a temporary safe haven.

The ultimate goal of Rocket Dog Rescue is to save unwanted, sick, and abused dogs until they find a forever loving home, as the volunteers believe that every animal is eligible for adoption no matter their age and breed and it definitely worked with Merrill and Taco!