Click
here
for the original link



Trump canceled a planned speech to the overflow crowd for his rally in Tulsa after the crowd was smaller than expected.

Trump announced the cancellation at the last minute: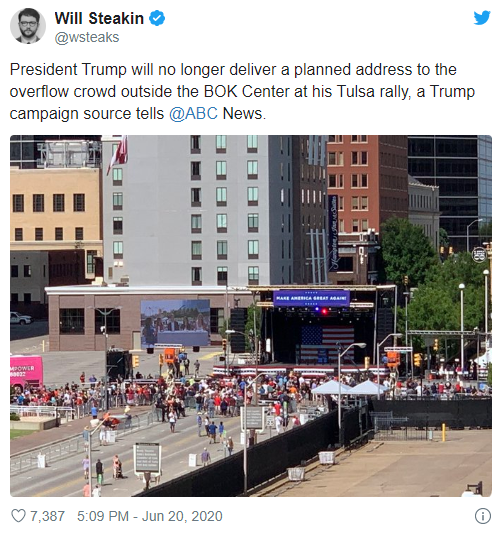 This is what it looked like outside the venue when they canceled: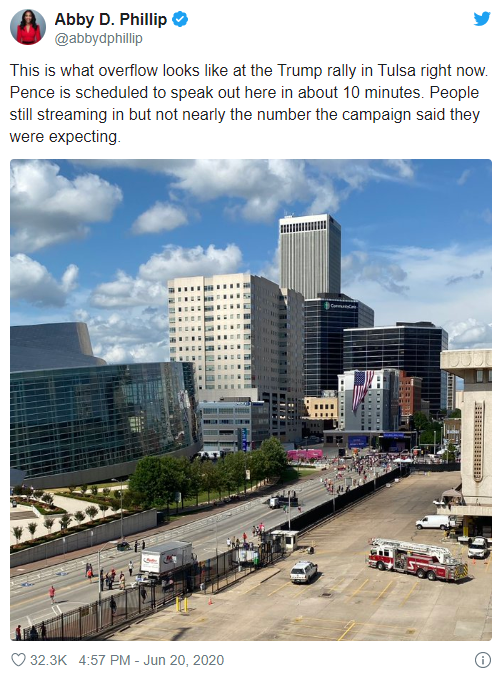 The entire area emptied out:


The Trump campaign set massive expectations for this rally
with their claim that a million tickets were requested for the event, but it turns out that the vast majority of those requests were from people who had no intention of going but wanted to get tickets to prevent Trump from spreading the coronavirus.
The Tulsa event was no normal campaign rally. There was an arena event with Trump, an outdoor overflow event, and they expected tens of thousands of people on the streets.
Instead, they are canceling events and are trying to manage their biggest failure to date of the 2020 campaign.
For more discussion about this story join our
Rachel Maddow and MSNBC group.
Mr. Easley is the founder/managing editor and
Senior White House and Congressional correspondent
for PoliticusUSA. Jason has a Bachelor's Degree in
Political Science. His graduate work focused on public
policy, with a specialization in social reform movements.
Awards and Professional Memberships
Member of the Society of Professional Journalists and
The American Political Science Association
Back to News
Back to Political News
Back to Political News Items - Page 3